1/ Remove a connected Bluetooth device on your Mac — Click the Bluetooth menu at top right of your screen and choose Bluetooth Preferences or, if you can't see that menu, open System Preferences and click the Bluetooth tab and tick 'Show Bluetooth in menu bar. Either way, now you see your paired devices
within that pane. Right- or Control-click (hold down the Control or CTRL key on your keyboard and then click) on the connected Bluetooth device in question and pick Rename from the contextual menu. You'll be asked for the new name you want. Type it in, click Rename and you will be able to identify your devices more easily.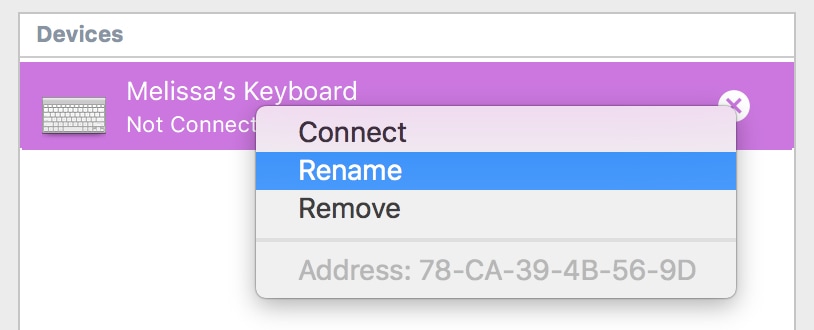 2/ iCloud is online and you can access it this way — All your iCloud connected activity is available to you online., free, thanks to your iCloud account. This is a web page dedicated securely to you. In a web browser (on any device) go to http://www.icloud.com, sign in with the email address associated with your Apple ID and your Apple ID password (that for iTunes, app Store etc, not your Mac or device password or passcode) and you can see all your information, including Contacts, email if you have a free iCloud email address, and even documents you have shared from Pages, Notes, Reminders, Numbers etc. Just make sure you sign out before closing the browser if you're doing this on someone else device.
Signing in online also lets you find your devices on a map, as below …
3/ Make sure Find My Mac is enabled — Nothing worse than losing your Mac, but have you really turned on this feature? Open System Preferences, click iCloud and scroll down to turn this on. But if it has an exclamation mark in a  yellow triangle, you have not enabled Location Services. You may have turned this off for greater security, but you can turn it on and only have the Find my Mac feature using it. In System Preferences, click Security & Privacy and under the Privacy tab, click Enable Location Services. You can then tick what apps on your Mac use it (or not).
Now you can visit http://www.iCloud.com to see if your Mac is showing up on the map of your devices. If you need more help with how to do that, here's an Apple support article – just follow the instructions under the 'Find your missing Mac' section.
4/ Downloading iCloud Photo Library pictures — If you're using iCloud Photo Library, Apple's service for syncing all your pictures across your devices, you can choose to keep your images stored locally on your Mac, which is definitely the safe way to go. But how do you tell how your service is set up? Open Photos on your Mac and choose Preferences from the Photos menu, and chick the iCloud tab.
The topmost choice is iCloud Photo Library – this will be on if you're syncing your library across your devices. If yours is currently turned off and you're thinking about turning it on, be sure you've got a backup first! And it'd be good to read Apple's support article on it too.
The two other options are Download Originals to this Mac and Optimize Mac Storage. The first keeps a copy of everything on your Mac; the second manages your library automatically, only storing as many pictures as you have space for.
If you have the space on your Mac (MacBooks and MacBook Airs have very small internal storage, so this may not be an option for you), most recommend the Download Originals to this Mac option. That way, you can do things like offline editing, and you can also back up your library through Time Machine (or what have you) so it's protected in case a problem with iCloud that causes data loss crops up (rare, almost unheard of, but by no means impossible, and t's also subject to good internet connectivity, of course). Never think of syncing services as a backup, and especially not as your ONLY backup.
If you've got Optimize Mac Storage on and you didn't intend it to be, that may mean that some of your pictures are only living up in iCloud and aren't on your Mac any more. If you've got the storage to accommodate all of your stuff, you can just toggle that particular setting to Download Originals to this Mac instead, and then that re-downloading will begin. Depending on the number of affected items you have, the process could take a while.
5/ Keep just a subset of your photos on your Mac — If you  just want to download a subset to your Mac, one way to do it is by configuring an album or smart album with the pictures you want to pull down. Start setting this up underneath the File menu inside Photos.
New Album and New Empty Album are both choices you can use. If you pick either of those, add items to them according to your preferences.
The New Smart Album option is pretty handy if the images you want to download meet criteria that you could configure using rules – for example, if all images you want were shot  between specific dates.
Once you've got your album or smart album set up, an easy way to download its contents is to first turn on Photos' sidebar by choosing View>Show Sidebar or by pressing Option-Command-S; then you'll right- or Control-click on your new album in the sidebar to pick the appropriate option from the contextual menu.
After the download is complete, you should have local copies of your pictures, and then you can back them up or do whatever you need to. And if you start having trouble, here's another Apple support article on troubleshooting your iCloud Photo Library.
[These iCloud photo tips came from Mac Observer.]